Prosecutors have finally announced that Portugal international Cristiano Ronaldo will not face criminal charges for an alleged hotel assault on American model Kathryn Mayorga.
Kathryn Mayorga accused Cristiano Ronaldo that the former Real Madrid star assaulted her in an hotel in 2009 when the footballer was playing for Manchester United.
But Cristiano Ronaldo denied the accusations claiming that Mayorga and his lawyers were only trying to bring his name down.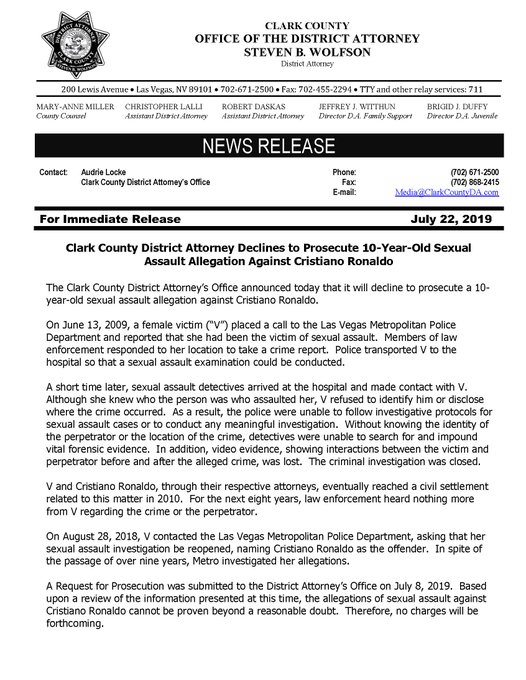 And according to the latest report on UK Mirror, the Clark County District Attorney's Office ruled that the allegation against Ronaldo cannot be proven beyond a reasonable doubt.
In September last year, Mayorga filed a lawsuit in Las Vegas trying to overturn a £288,000 non-disclosure agreement in 2010 which she argued was signed under duress.
It came after she claimed she was assaulted by Cristiano Ronaldo on June 13, 2009, as he partied in Las Vegas.
"On August 28, 2018, V contacted the Las Vegas Metropolitan Police Department, asking that her sexual assault investigation be reopened, naming Cristiano Ronaldo as the offender. In spite of the passage of over nine years, Metro investigated her allegations.
"A Request for Prosecution was submitted to the District Attorney's Office on July 8, 2019. Based upon a review of the information presented at this time, the allegations of sexual assault against Cristiano Ronaldo cannot be proven beyond a reasonable doubt. Therefore, no charges will be forthcoming," the prosecutors released a statement according to UK Mirror.